Luxurious Hawaiian lomi lomi massage with the option of an herbal whirlpool bath.
Refresh your body and mind with a lomi lomi massage with hot lava stones and refined organic oils. It will boost your health as tension and stress melt away. This massage is often called the pearl of massages, harmonising both body and mind. Perfect for detoxification, increasing blood flow and a deep down feeling of warmth; it is deeply relaxing and boosts immunity. Treat yourself to this unique experience!
Contraindications for lava stone massage:
Pregnancy and puerperium, painful menstruation, open wounds and bruises, varicose veins and varices, infectious disease, fever, hypersensitivity, increased sensitivity to heat, epilepsy, heart disease, high blood pressure.
---
Bamboo massage, an innovation in the world of wellness and relaxation, now with the option of an herbal whirlpool bath.
This massage is a very effective and pleasant procedure that has excellent relaxing, soothing, reflex, anti-cellulite and lymphatic effects. It works similarly to a lymphatic massage. A bamboo massage uses heated bamboo canes and hot organic coconut oil that scents and softens your skin. The massage relieves back pain and muscle tension and stiffness. The skin is more supple and radiant after this massage.
Contraindications for a bamboo massage:
Pregnancy, inflammation, heart problems, varicose veins, very thin people.
---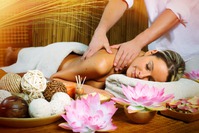 A relaxing full-body massage with the option of a herbal whirlpool bath.
A relaxing or regenerative massage has many beneficial effects on the state of muscles and joints. It helps relax the whole body and relieves those unpleasant feelings of tension and stress. This is a pleasant, soothing massage with refined aroma oils that will fill you with energy and vitality.
Contraindications for relaxing massage:
pregnancy, inflammation, painful menstruation, heart problems, acute inflammation of the varicose veins.
---
We are also preparing other types of massage.